We are a group of Salesian Alumni who have come together because of our common love for Father Murphy. At some point in our lives, each one of us was touched by the giving man known as "the Murph". We all have our own stories that will be shared on a regular basis on the website under the "Murph Stories" column.
As has been mention in this website, Father Murphy taught us through his example that if you could help those in need, you did. It was his gift to us. The gift of "Giving Back"!
So in that light, here are some brief bio's on the group that today is known as the "Friends of Father Murphy".
 
President/CEO – Steve Segura

Alumni of SHS graduated in 1967. He was a major force in starting up "The Friends of Father Murphy".
Steve Served in the USN Vietnam Campaign from Nov. 1967 – 1969. Gulf of Tonkin & Da Nang.
Graduated with Journeyman Licenses in HVAC & Electronics from LA Trade Tech. and AA degree from Mt. SAC and attended Cal State Fullerton Business Administration.Recently retired as Manufactures Rep, married 41yrs. Spouse Pearl with 3 adult children Mark, Gina, Andrew. Two grandchildren Isaiah, Savannah and a third grandchild coming in Jan. 2013.

 Vice President – Richard Hugues

Is founder of A.R. Hugues & Associates, an insurance and financial services firm, offering all forms of insurance coverage and financial products.
Has been in the insurance business since 1970 and specializes in 403(b) / TSAs, Mutual Funds, Group and Individual Medical Insurance, Pension and Profit Sharing plans. He is a registered investment advisor/broker and a member of the Financial Planning Association.
A Salesian 1965 Graduate; he is married with two daughters & two granddaughter.

 Treasurer – Eddie Vigil

A Salesian graduate from the class of 1969, Eddie is one of the founding members of the Friends of Father Murphy.  Married to his high school sweetheart, Yolanda for over 40 years they have 3 children, and 3 grandchildren.  Eddie resides in Moreno Valley, he worked for Motorola Solutions for 38 years serving the national Public Safety market.  Eddie is now retired and plans to take Yolanda to visit the numerous cities he has visited over his career throughout the U.S.  Eddie enjoys golf, fishing, and showing his classic 1970 GTO at many of the local car shows.
Sergeant of Arms  –  Fernie Ramirez
Hi friends, Fernie here
Now let's see what I remember. This takes place a while back around the early 60s. As far as I know at that time Salesian High School did not have an official school seal or logo.  So, we talked about it and one night my Step Brother Ernest Joseph Gutierrez (you all know him as Joe Gutierrez) he was a teacher who taught Latin at Salesian and I an artist, sat down and in a joint effort and came up with a design for the official seal for Salesian High School.
My Brother was my mentor, friend, and drill sergeant (said with carino). We thought what would be the best way to visually depict the school and its goals. We kicked around some ideas and he came up with the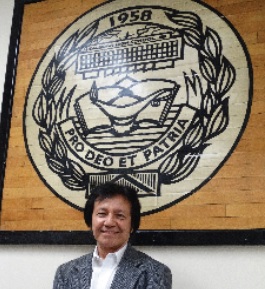 open book and the "Lamp of Knowledge" because hopefully you paid attention and learned something that you can use later in life and suggested to use the line "Pro Deo Et Patria". I guess that's where the drill (con carino) sergeant kicked in, he did serve in the United States Army. I came up with the drawing of our school building the only school that looked like a block of butter with lines along the sides. Joe didn't care for my comments. And so, the new school seal was born and used in different applications.
My four years at Salesian are held with pleasant memories. From frosh week through the pep rallies, masses in the small chapel, study halls, detention, NYC Program, art classes, carnivals, dances, the girls' schools, the Pep Club with Louie Perez class of '69 painting the big goal post banners which took us 5 hours to complete and 3 minutes for the football team to trash through it, playing in the Mustang Band, selling those chocolate candy bars, and knowing our principal, teacher, mentor, and friend Father Ralph Murphy.
I joined the Friends of Father Murphy, a non-profit organization in 2011. As Sergeant of Arms at our monthly meetings, I am impressed with the men and women who take the time out of their busy schedules to help us reach our important goal which in two-fold is to award needed scholarship to help Salesian students complete their education and move on to higher learning institutions and along with our organization and most importantly to give back to the community.
As past alumni join the Friends of Father Murphy, they bring new ideas and vigor which in turn help our fund-raising events be fun and successful. So, I graduated with the Class of 1967. . . now what! As an artist for an embroidery company, sign painter and graphic artist in the Army, working a little over 15 years at the L. A. Zoo, running my graphics studio in Hollywood, I know the meaning of preparation and hard work. Now currently working in the art unit for the Los Angeles Police Department, I've come to know and make good friends while producing hand lettered personal wooden name plaques to outdoor bill boards.
Living in Boyle Heights, I remember our fun family get togethers it was neat to hear my uncles and cousins playing their guitars and singing. I sang to the doo-wops and oldies blasting out on my radio. An Elvis song caught my ear and I started singing the hits of the King and other artists at home and in my car.  While karaoke (in Japanese it means Keep Your Day Job!) came on the scene it found me singing at various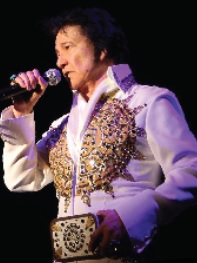 karaoke bars and restaurants. I guess I sang and moved pretty good, not bad for an old guy. To my surprise friends started asking if I performed for parties and special events, I said yes, so I rushed and purchased a $20 Elvis costume and performed at several events around town.  I know I performed well because a few fake jewels from my costume were scattered all over the floor! Several shows later I was able to purchase official Elvis jumpsuits that cost around $1,900. I tell you, I'm having a funtastic time performing and bringing those wonderful memories of the King to my friends. Just to hear the comments and accolades from the audience makes it all worthwhile. Thank God, I'm in good health and keeping busy! So, if you know of anybody looking for a DJ, KJ or for something different and fun in entertainment please share and like my site: www.elvizandfriends.com
God Bless You and
Thankyouverymuch     
Fernie Ramirez, Class of 1967
---

Secretary – Connie De Miranda
---
---
---

Admin.Assistant – Diane Hanshaw
---